Taking responsibility for biosafety
The coronavirus (Covid-19) has made it clear just how disruptive infectious diseases can be for our society and economy. Feed industry companies previously received this unwelcome message from the African swine fever (ASF). It is therefore time to reflect on the role that the feed sector plays in biosafety.
Last year we made a company visit to CP Group's feed factory in Wuhan, China with an international delegation. But before we could enter the factory, we were given protective clothing and had to go through a disinfectant steam cabin. In front of the entrance gate, a CP truck, just returned from a delivery to a farmer and was being completely cleaned and disinfected.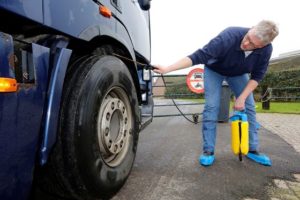 These are standard procedures that are part of the CP policy against the ASF. They also have the desired effect. During the visit, the company reported that it was significantly less affected by ASF than other companies. We can safely call that an achievement, as the disease has a major impact on the international feed sector. For example, feed production in China fell by more than 10% last year.
Covid-19 Up-date
What impact is the pandemic having on the global animal feed sector and how are they dealing with it.
Biosafety
Companies that want to arm themselves against the consequences of ASF would do well to consult manuals of their sector organisations. Although the GMP+ certification scheme does not have biosafety in its scope, it does contain useful tools for risk assessments in accordance with HACCP and means for implementing precautionary and control measures.
Track the movement of African Swine Fever
For everything you need to know about ASF, from the latest outbreaks to controls stay up to-date…
It is good to realize that viral diseases are not only spread via animals and farmer tofarmer contact. Viruses can just as easily spread via visitors to your company or via your trucks delivering feed to livestock farms. Recent publications about the possibility that feed raw materials may also be a carrier of viruses require alertness and extra attention to the production process.
Track the movement of Avian Influenza
For everything you need to know about AI, from the latest outbreaks to controls stay up to-date…
It is therefore important to seriously invest in assuring biosafety, also (and perhaps especially) in periods when there are no diseases. For example, consider an admission policy: who can enter your company, what do they get access to, and what hygiene measures do you ask of them? What is the cleaning and disinfection regime of your trucks like: partially or completely, for example do you include the wheel arches?
Animal feed experts talk
To read more All About Feed expert opinions
Wake-up call
There are no ready-made answers and indeed, such measures have a high impact on your business operations. But the impact of viral diseases however is immense. We see that now with ASF, and also with bird flu (avian flu) and of course with all measures regarding the coronavirus. In short, more than enough reasons to take biosafety seriously.
As a certification scheme for feed, we consider our role in situations such as these. Viruses and diseases can never be completely eradicated. Let us at least work together to ensure that we are optimally prepared to prevent or at least minimise economic damage to all parties in the chain.